Our Services
From the selection of color to the final finish, each step in every service is completed with precision and care. We treat all projects, commercial or residential, as if it were our own. Your Ideas Become Reality.
Your ideas become reality.
Acid Stain & Dyes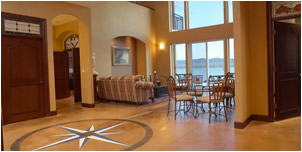 Whether your design ideas embrace a traditional or modern theme, acid staining will enhance any décor. We can offer advice as to which color combinations will create your desired look. We specialize in decorative engraving and stenciling. When it comes to the final finish, we use a wide variety of sealants to protect your floor (residential or commercial). Kemikoating Surfaces is a preferred applicator of Kemiko Concrete Stain and Sealants.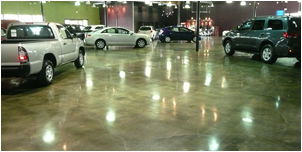 Concrete Polishing
Our team can restore worn out concrete or enhance a new pour with a multi-step diamond grind process. A once porous concrete surface can become tight and dense inhibiting water, oil, and other contaminants from penetrating. Polished concrete provides great reflectivity, instantly brightening any space. Many clients have reduced daily facility maintenance and energy costs with this process. In some cases new lighting installations were no longer needed. Polished concrete has quickly become the go-to flooring system among architects and builders for showrooms, offices, schools, and retail locations.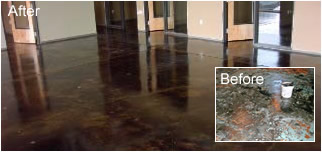 Resurfacing
We are experienced in preparing the existing concrete slab by removing materials or containments in the least aggressive process to achieve an attractive decorative surface.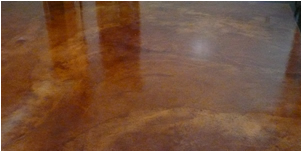 Concrete Overlays Kemikoating Surfaces is a preferred applicator for Colormaker Decorative Floors. Where a concrete surface does not lend itself to being the finished floor, we can apply an overlayment, generally 1/8" thick. Concrete overlays provide a excellent performing canvas that will accept a variety of decorative application options. These options include integral colorants, acid stain, or water based polymers.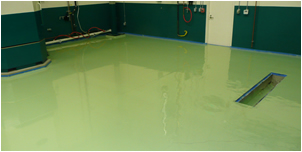 Epoxy Installations
Kemikoating Surfaces is a recommend installer of Durramen High Performance Flooring and Sta-Crete Industrial Coatings.
We specialize in applications of low to 0-VOC two part water-based extended epoxies. This coating is desired for those environments where cleanliness and sanitary environments are essential. Epoxy coatings will offer reflectivity and quality abrasion resistance. Warehouse floors, garages, food and chemical processing facilities, hospitals, and schools benefit from epoxy coating systems.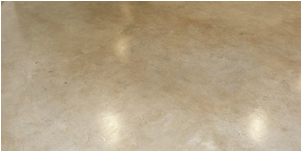 LEED Building Installations
Kemikoating Surfaces utilizes the finest products on the market; many are VOC compliant and provide long lasting durability. If you are searching for a flooring option to meet green building requirements, we have the answer.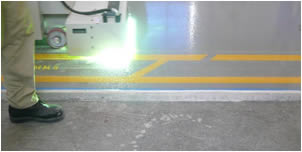 Certified Kemiko UV Floor Coatings Installer
Kemikoating Surfaces is a trained and certified installer of Kemiko UV Floor Coatings with QV Technology. This is a unique system, proprietary blend of oligomers, monomers, additives, photoinitiators and pigments that provide a long-lasting, tough finish for industrial floors. A durable seamless bond between a single component formulation and the concrete is created by a mobile UV curing unit. Kemiko UV Floor Coatings will protect and increase the life of your new or existing concrete floor by providing resistance from abrasion, chemicals, and scratches. The attractive glossy or satin surface will not experience discoloration from direct sunlight. This system complies with VOC and HAPs environmental mandates.
Our crew will travel nationwide for various commercial and residential projects. Please call or complete the on-line quote request form for an estimate. Thank you for visiting Kemikoating Surfaces website and we look forward to assisting you with your upcoming decorative concrete projects.
Warranty - Kemikoating Surfaces offers a one year warranty from date of project completion.