About Us
Kemikoating Surfaces has over 17 years experience in the decorative concrete industry. In the beginning, our main focus was on the amazing transformative process of acid staining. This reactive process has come a long way and we are proud to be certified applicators of one of the most stunning and dependable acid stains on the market, Kemiko Stone Tone Stain (LEED Certified). Kemikoating Surfaces has provided numerous commercial & home owners with impeccable acid stained floor finishes.
Kemikoating Surfaces is a certified applicator of Quaker Chemical Corporations Kemiko UV Floor Coatings. This is a field applied high-performance polyester UV-curable floor coating system. This is a superior flooring option for industrial, manufacturing, warehouse and maintenance complexes, as well as office and showroom locations. If blackout dates and downtime are not feasible and improved durability, chemical resistance, and lower maintenance costs are desired, Kemiko UV Floor Coatings are the solution.
Our decorative services have expanded to include a remarkable diamond polish system. This complete polishing process will revitalize an old concrete floor or strengthen a new pour. A once porous concrete surface can become tight and dense inhibiting water, oil, and other contaminants from penetrating. Providing sound strength and improved impact resistance, this final result is a dramatic and attractive floor that is easily maintained for years to come.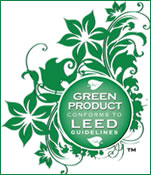 At Kemikoating Surfaces, we understand the value of providing eco-friendly services for our own health and the earth's longevity. It is also of the utmost importance to be on the forefront of the decorative industries ever evolving green technologies and products. We practice the most environmentally friendly ways to remove previous unwanted flooring. From the use of 100% biodegradable and LEED certified products to utilizing diamond polish/grind systems, our carbon footprint is reduced without sacrificing quality.
Kemikoating Surfaces continues to offer free estimates. This includes a consultation, which enables us to understand your personal needs and desires. We will customize a decorative flooring solution that meets your goals and budget.
We work closely with national architects and interior designers to achieve harmony and success in every concrete design process. Our professional team can advise as to which method of application and material is most appropriate for the particular circumstance of the project. When completed, the floor will portray a feeling of timelessness and be a true expression of style.
Thank you for visiting Kemikoating Surfaces and we look forward to assisting you with your upcoming decorative concrete projects.